Age of Empires 2: HD Edition Review (PC)
key review info
Game: Age of Empires 2: HD Edition
Platform: PC
Gamepad support: No
Reviewed on:
Written by: Andrei Dobra
Show system requirements
There are many great real-time strategy franchises that appeared in the genre in the 1990s, like Command & Conquer or StarCraft, but many fans still fondly remember Age of Empires 2: Age of Kings, as well as its subsequent expansion, The Conquerors
.
While a full-fledged sequel followed in 2005, many people still consider Age of Empires II to be the definitive edition. As a result, franchise owner Microsoft tasked Hidden Path Entertainment with creating a high definition remake of the original, not only with support for current PC displays but also with a working multiplayer and a few other features.
Does Age of Empires 2: HD Edition manage to bring the classic strategy experience back to life or are you better off modifying the original to work on current PCs? Let's find out.
While the core experience, in the form of the Age of Kings, was quite expansive, original developer Ensemble Studios delivered a special expansion called The Conquerors, which added campaigns for new civilizations like Aztecs, Mayans, Spanish, or Huns, as well as new units, technologies and much more.
The HD Edition brings together both of these experiences and allows players to freely select between the different campaigns, ranging from the tutorial William Wallace scenario that teaches the core mechanics, to the much more challenging missions that focused on Atilla the Hun, for example.
Sadly, besides being able to play the game at a high resolution, the Age of Empires 2: HD Edition doesn't bring that many new improvements over the original title that came out in the early 2000s. There are very few customizable graphics options so you're pretty much stuck with the age-old sprite-based animations that dropped out of style ever since 3D took the real-time strategy genre by storm.
What's more, when playing at higher resolutions, the units seem quite small and you'll barely be able to tell them apart in larger groups. Speaking of groups, the new version of the game still doesn't allow players to select a bigger number of units, so you'll still have to split your men into smaller legions so that you can more easily order them around.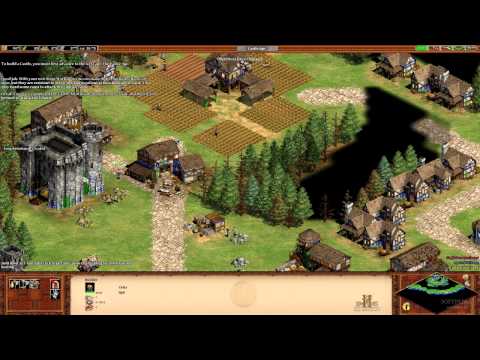 Play Video
The scripted campaigns haven't received any optimizations, so you'll often be forced to wait out certain events, including victories, to be triggered even if you completed the necessary objectives. The pathfinding continues to remain awkward at best, as some units will go in all sorts of directions except the most obvious one.
The HD remake did bring a small improvement to the interface and some new visual effects, but you'll only notice them when you compare the old and the new editions side by side.
A major issue of Age of Empires 2: HD Edition appears when you have lots of units on the screen. The new version takes the population limit up to 500, but the game will start moving very slowly and gets filled with lag long before you reach that number.
One area where the new game does shine is multiplayer, as Age of Empires 2: HD Edition supports Valve's Steam digital distribution service and allows users to play against one another in online matches easily and without any hassle.
The new game also has support for the Steam Workshop system, which allows users to easily create and share maps for the game, thereby guaranteeing that new content will continue to appear long after the game's release.
Conclusion
Age of Empires II: HD Edition is a mixed experience. On one hand, the visuals haven't received any major improvements, except the fact that they now scale to current resolution displays. On the other hand, the addition of Steam-powered multiplayer and support for the Workshop will certainly give the classic game a new and pretty decent lease on life.
There are, however, quite a few glitches and many areas where improvements were certainly needed have been left unchanged. As a result, if you still have the original version of the game, you're probably better off playing that at least until a few updates are released for the HD Edition.