Castle of Illusion ReviewPC
key review info
Game: Castle of Illusion
Platform: PC
Gamepad support: Yes
Reviewed on:
Written by: Cosmin Vasile
Show system requirements
SEGA launched Castle of Illusion platform game for Sega Genesis back in 1990. 20 years later, the company thought it would be wise to offer players the chance to play a remake of the popular side-scrolling game.
Developed by SEGA Studios Australia, the remake of Castle of Illusion arrived on PlayStation 3, Xbox 360 and PC early this month and received mixed critics.
As expected, the game follows the same story as the original title, but features 3D graphics and remastered music composed by Grant Kirkhope.
Players take control of one of the most popular characters starring in Disney's cartoons, Mickey Mouse, who is on a quest to save his sweetheart, Minnie Mouse, from the clutches of the evil witch Mizrabel who wants to steal her beauty.
In order to fight Mizrabel and save Minnie, Mickey Mouse needs to build a rainbow bridge using special gems that can be found at the end of each level.
The game is divided into multiple levels, each with 3 stages. At the end of each level, Mickey will face a boss who drops a special gem that he needs for the rainbow bridge.
Players will have to gather enough diamonds to unlock the next level, but even if you don't get all diamonds spread along the three stages of a level, you will still be able to gather enough in order to unlock the next one.
However, if you wish to unlock special stuff, like various outfits for Mickey, you will have to be a bit more thorough as each level has hidden objects like chili peppers and playing cards.
The game has more than decent graphics with both 2D and 3D scenery. Some may have some issues with these transitions from 2D to 3D, but once you get used to it, you won't have any troubles focusing on gameplay.
The remake of Castle of Illusion looks gorgeous and even if I did not play the original 20 years ago, I almost felt the nostalgia of playing something old with a tint of modern.
The main issue I had with the game was the clunky controls that took some time to master. This does not represent too much of a problem once you get used to it, but the first stages are a bit of a pain.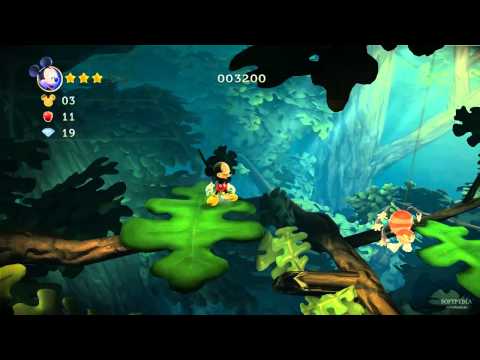 Play Video
Once I got past the clunky controls, I realized that Castle of Illusion did no offer too much of a challenge in terms of gameplay. I got past the second and the third level pretty fast after I warmed up in level one.
The only challenge is to gather all the special stuff (i.e. playing cards and chili peppers) in order to unlock special outfits for Mickey Mouse, but other than that, any player that has some experience with platformer games will find Castle of Illusion too easy for their tastes.
Mickey's weapon of choice is a "bounce" attack that he can use to eliminate his enemies. He can also throw various things like apples or candies, which has the same effect for his enemies. However, you will have to collect these projectiles throughout the game's stages in order to be able to use them.
What I really loved about Castle of Illusion besides the nice graphics is the voice acting. SEGA employed the services of Richard McGonagle as narrator in Castle of Illusion and he has done a marvelous job. McGonagle is one of the most experienced voice actors that also "starred" in video games.
His experience comes from high-profile titles such as the Uncharted series, Metal Gear Solid 3, Just Cause and The Incredible Hulk.
The music is another strong point of the game and contributes to the nostalgia effect. As mentioned earlier, the game features a remastered soundtrack composed by Grant Kirkhope, a well-known Brit composer who has also written music for Kingdoms of Amalur: Reckoning and other games.
Last but not least, I have to highlight the fact that Castle of Illusion is a very short game. Average platformer players will probably finish it in about 3 hours, but the experienced once will have no issue beating the game in about 2 hours.
Although it offers some variations given the fact that each level is placed in different environments, the game is way too easy, even compared with the old version, and too short. These are other cons that will probably make fans of side-scrolling games think twice before paying the full price for Castle of Illusion.
Photo Gallery
(37 Images)
Comments