key review info
Game: Deadpool
Platform: PC
Gamepad support: Yes
Reviewed on:
Written by: Andrei Dobra
Show system requirements
Before the Batman Arkham games, titles based on comic books weren't exactly brimming with quality, and the most impressive was X-Men Origins: Wolverine, coming from Raven Software and Activision.

After a few more lackluster titles based on the X-Men franchise, Activision is back with the Deadpool game, made by its High Moon Studios developer, promising to deliver a title that's not only fun to play but also one that puts into the spotlight the unique features of the outlandish hero.

Seeing as how Deadpool uses both swords and guns, while meeting all sorts of imposing X-Men heroes and foes, the game is set to be a pretty impressive experience.

Does it deliver on its promises or should the Merc with a Mouth stick to comics? Let's find out.

Story

Deadpool has always been one of the most outlandish characters from the Marvel comics universe, as the so-called Merc with a Mouth not only manages to mock other heroes or villains, but also breaks the fourth wall by communicating with the reader either using his own voice or one of his two inside voices, which are either childish or mature.

In the new game, Deadpool tries to complete a mercenary contract by capturing a corrupt individual. Before turning him in, Mister Sinister, alongside an array of villains, kidnap the guy, so Deadpool must go after them, while carving his way through their mercenaries and teaming up with a part of the X-Men, including Wolverine, Rogue, Domino, or Psylocke.

What follows is a series of hilarious events, broken up by Deadpool and his hilarious inner dialog, as well as his different remarks concerning the actions of the player.

Along the way, he meets – and subsequently makes fun of – different other comic book characters, while going further into the plot devised by Sinister.

[tablec] [row] [col]
[/col] [col]
[/col] [/row] [row] [col]
Play as Deadpool ...
[/col] [col]
... and go on epic adventures
[/col] [/row] [/tablec]
Gameplay
In terms of actual gameplay, Deadpool is an action adventure experience that combines third-person shooting with hack and slash mechanics. The hero can use his trademark dual swords against enemies by engaging in light or heavy attacks, but also different weapons, like twin pistols or shotguns.
Besides attacking, Deadpool also has a teleport ability that acts as a sort of dodge, allowing him to sidestep enemy attacks and deny any damage received. In case you forgot his origins, Deadpool also has a mutant healing factor, thanks to a little DNA from Wolverine, so regenerative health is included in the game.
As players progress through the campaign, they earn DP currency, which can be spent on upgrading his core abilities, unlocking new combos, but also on purchasing new weapons and upgrading existing ones. New items include big hammers instead of swords, but also shotguns instead of pistols, or accessories like grenades or mines.
While the overall combat is decent, although a bit shallow, the exploration and the platforming aren't that good, as Deadpool will easily get stuck in invisible obstacles, and his jumps won't take him to the intended destination. What's more, when he falls off cliffs, instead of dying, the game prompts players to teleport back to the nearest ledge.
Speaking of death, it's a pretty hilarious event, as Deadpool will walk around the screen that asks to restart from the last checkpoint, mocking the player's inability to keep him alive.
Enemies aren't that smart and there's a huge case of cloning, as there are only a few basic varieties of foes that keep on being rotated during a level. Besides regular mercenaries, there are a few bigger monsters but, with careful teleporting, they can be easily defeated, although they do have some cheap attacks that interrupt anything the player is doing.
There are also a few turret sections, but these are pretty impressive thanks only to Deadpool's hilarious inner dialog. Puzzles are also present inside the game, but they mostly revolve around jumping from platform to platform, which can become irritating due to the glitchy system.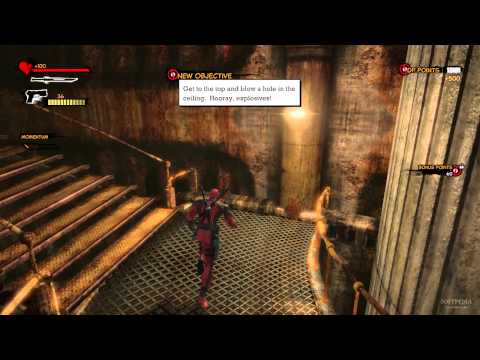 Play Video
Visuals and Sound
In terms of visuals, Deadpool is fairly decent but won't impress anyone. Character models could have used more care, and a bit more color wouldn't have hurt the level design. Textures are sometimes of a low quality, especially when zoomed in in certain situations.
In terms of sound, the game shines largely because of Nolan North, the voice actor responsible for Deadpool, who makes a show of force. What's more, in the beginning, he even gets to voice himself, as Deadpool calls North on the telephone to ask him for help with his game.
The other voice actors are pretty good and the soundtrack overall will complement Deadpool's over-the-top style and his constant mood swings.
[tablec] [row] [col]
[/col] [col]
[/col] [/row] [row] [col]
Meet some of the X-Men ...
[/col] [col]
... and take on Mister Sinister
[/col] [/row] [/tablec]
Conclusion
The Deadpool game is a decent experience. Had a bit more care and a bit more money been invested in terms of gameplay or visuals, it might have been another shining moment in terms of comic book-based games.
Instead, Deadpool's awesome persona and his wacky adventures are dragged down by simplistic combat, annoying exploration, and lackluster visuals.
Check out the gameplay screenshots for Deadpool below, but
*please be warned that discretion is advised, as the subtitles in some of them contain instances of language that might offend.