key review info
Game: Dream Chamber
Platform: PC
Gamepad support: No
Reviewed on:
Written by: Liana Nastase
Show system requirements
From the makers of Syberia comes forth a new game, a humorous episodic adventure that incorporates a highly stylized tale with an excellent noir vibe, entitled "Dream Chamber."
This brand new point-and-click game published by Microids has an outstanding premise, presenting a private investigator that is capable of processing what he sees only when he is asleep. A game that completely depends on dream mechanics and makes sleeping an interesting activity.
As a story, this title presents America in the 30s, somewhere between the Prohibition and the Great Depression, and a wealthy-beyond-words man called Charlie Chamber that has set his mind on being a detective.
The plot unfolds when a highly publicized museum theft occurs at a charity event that is hosted by Charlie's fiancée, Teleta. Since he "decided" to become a detective, one can see this is more of a hobby rather than the real thing.
Believing that he is up for the job, Teleta asks him to find out what has happened at the museum, much to the resistance of his uncle, the actual private investigator.
Things will get interesting as the story progresses, the game providing some unique features as well as some humorous dialogues and lines, courtesy to the great Charlie Chamber.
The title certainly offers a great amount of mystery. From the very beginning, players will notice that things are unclear and nothing is exactly as it seems. The game starts with a strange phone call, providing a bit of information on what might happen later in Dream Chamber.
From here on out, the action revolves around this hapless detective and around a story full of conspiracies and numerous double crosses.
As I have mentioned earlier, there are some interesting features, apart from the obvious ones, which allow Dream Chamber to differentiate itself from other point-and-click adventure games.
One of these features is presented under the form of Charlie's ability to revisit places in his dreams. This particular ability offers him an advantage that other private investigators do not have. This helps with solving puzzles, as one is able to enter the room and see what objects are important.
This is quite useful because along the game, players can click on everything, starting with carpets, flowers and going as far as pencils and drawings. Even if not all objects are useful, one can still obtain information about them.
The developers seem to have assumed the "revisiting places in a dream" ability will bring somewhat of a balance and players won't feel as if they are just wandering around.
Therefore, players must visit as many places as possible so that Charlie can revisit them in his dreams and talk with his subconscious about possible clues. This helps with the puzzles, which are pretty entertaining and not too difficult either.
The other feature is a bit strange and some players might see it as a flaw rather than a nice addition to the game.
The bizarre dialogue battles that occur when Charlie is forced to obtain certain information are definitely something new and will have the main character dress up in a full-on medieval costume. If you are familiar with the Monkey Island series, this will definitely remind you of the banjo battles or insult fights.
Speaking of characters, players will get to see that Mr. Chamber actually talks to his subconscious, as it is portrayed under the form of a man named Charles. This Charles is a snobbier, much cooler version of Charlie. He is the one that helps Charlie along the way, giving him pointers on what to do next.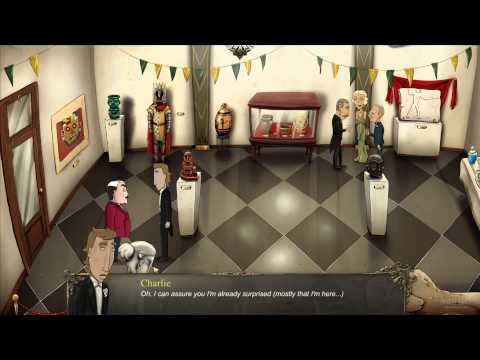 Play Video
Concerning Charlie, he is your typical spoiled rich kid, commenting on everything and everyone. He is quite entertaining as he can make the funniest of faces while searching for clues and talking to other characters.
Talking to Charles, as well as switching between the waking and dream worlds requires a simple tap on different locations that show up on the city map, although there are moments when you need to go all the way back to the hotel room in order to go to sleep and finally dream.
Unfortunately, moving around is not as easy as it seems and Dream Chamber doesn't have too much fluidity in terms of character reactions either. When Charlie moves around, it looks as if there might be some frames missing in the character animations.
Moreover, certain hotspots are a bit too small, so players might find it difficult to click on certain things.
Even so, one can't say that this ruins the game as the visual part is delightful. From a graphic point of view, Dream Chamber is a must-play and players will understand why. By exaggerating some of the characters' traits, the developers have managed to create a cartoon-like world with a noir twist.
Sound-wise, the game is pleasant but lacks any kind of wow factor. If we were to talk about the character voices, they could use some improvement.
Conclusion:
As an overall experience, Dream Chamber delivers a very interesting story, full of great ideas that have not been too well incorporated as a whole.
Even so, the game will surely attract attention, especially with its visuals and some of its unique features. Taking the role of a rookie detective with a trick up his sleeve, revisiting crime scenes in his dreams so that he may investigate clues, is something that needs to be done.
Mystery fans won't be able to resist not experiencing this new way of figuring out crime scene riddles.
Photo Gallery
(21 Images)
Comments