Eador – Masters of the Broken World Review (PC)
key review info
Game: Eador – Masters of the Broken World
Platform: PC
Gamepad support: N/a
Reviewed on:
Written by: Andrei Dumitrescu
Show system requirements
I love turn-based strategy because it gives players time to ponder their decisions and because almost all choices open up new avenues of action, new ways to interact with the game world and progress towards a goal.
Eador – Masters of the Broken World is an example of the potential of the genre, but also of how hard it is to create a presentation and actual mechanics that will make the experience appealing to the average gamers.
The core of the game is classic: build up towns, recruit heroes, expand your holdings, generate cash and other resources, train troops, deal with neutral enemy forces and finally meet other empires in battle and defeat them.
The twist in Eador is that the world is literally shattered, split in pieces that need to be united and then controlled.
On the strategic map, players will control strongholds and other territories, but Eador is not a game about quick land grabs.
It makes more sense to keep heroes adventuring in the territories that you already control than to pick up new ones, because exploring a province uncovers hidden ruins and other points of interest where enemies dwell.
Clearing the locations will give gamers the resources they need to upgrade their holdings and make their armies more powerful.
The tactical battles are interesting, although it might take a little time to adapt to the fact that each faction moves all its units at once rather than alternatively.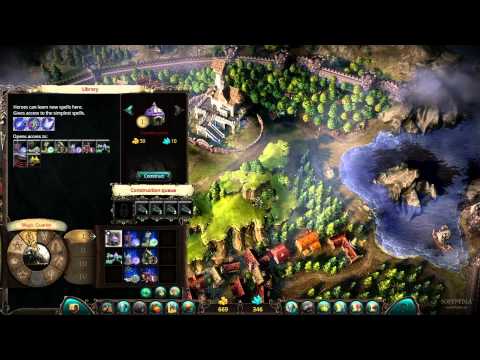 Play Video
There's a lot of depth here, with specialized units for many tasks, abilities that can change the course of a fight and the various skills of the hero also having an impact, including via spells.
The Artificial Intelligence that powers Eador – Masters of the Broken World is also quite capable, zooming on the player's weaker units and generally causing damage even when it's losing the fight.
Gamers need to make sure that they swap fresh troops in and out and fight as many monsters as possible in order to get access to experience, which increases their power directly, and to equipment and items, which do the same somewhat indirectly.
Gamers must abandon the idea that all units need to survive in a given battle because Eador is a game of high damage coupled with limited hitpoints.
This means that battles often result in casualties and players need to create a system to rotate units in and out in order to heal them while preserving the experience they gained by facing enemies.
There are moments when the experience can feel a little repetitive, but the team has implemented a number of events for those moments, which can alter the game in crucial ways and will force gamers to make tough choices and modify their strategy accordingly.
The biggest problem with Eador – Masters of the Broken World is how inconsistent the design choices are when it comes to the user interface.
The stronghold is crucial to the game, but it's hard to understand what and when to build and right clicking on a province to get access to its own menu of options felt weird every time.
On the tactical map, gamers also need to be careful with their clicks, as I have often found myself initiating attack that I did not really mean and putting my troops in more danger than they should have been.
I would have liked a little more attention paid to the tactical battles and the way information is offered to the player.
The game also offers multiplayer for those who have the patience required to play a turn-based game with another human and feel that the A.I. is no longer posing a challenge.
Those who plan to buy the game should also be aware that some players have reported game breaking bugs, although I have not found any during my time with the strategy title.
Eador – Masters of the Broken World is the kind of game I can see myself playing for 20 hours or more, honing my tactical skills, deciding which hero best suits my needs and the perfect composition for the army.
But the interface issues and the somewhat repetitive gameplay mean that I might be forced to abandon it much sooner to focus on more polished experiences in the same genre.