Wipeout 2048 ReviewPS Vita
key review info
Game: Wipeout 2048
Platform: PS VITA
Gamepad support: N/a
Reviewed on:
Written by: Andrei Dobra
Show system requirements
Racing games on handheld platforms aren't really that successful but, with Wipeout 2048, the Sony Liverpool studio wants to showcase both the power of the new PlayStation Vita, and the fact that a racing game on a portable device can look and feel just as great as one for a home console.
With the same great gameplay we saw on platforms like the PSone, PS2, PS3 or PSP, not to mention extra features like cross-play between the Vita and the PS3, as well as lots of online options, Wipeout 2048 is looking like one of the most feature-filled launch-day releases for the new Vita.
Does the futuristic racing game actually deliver on its promises or does it fail to even cross the finish line? Let's find out.
The first and most impressive aspect of the game is its sharp visual style. Wipeout veterans will feel right at home with the new game, as both the ships and the environments retain their futuristic feel.
In terms of the actual racing gameplay, everything is also top notch, as Sony Livepool managed to recreate and refine the same experience form Wipeout HD on the Vita. Ships feel fast and maneuverable, depending on their various attributes, while weapons pack a decent punch.
The key aspect of Wipeout 2048 is variety, as you can choose from a comprehensive single-player campaign or a multiplayer one, and even compete with Wipeout HD owners on the PS3 via the cross-play feature.
The single-player campaign is split into various seasons that have primary and secondary events. Each of them adds points to your XP count, allowing you to progress through levels and unlock more ships.
Events can consist of regular races, which have speed and/or weapon powerups, but also time trials, which task you with beating a certain time. By far, the most fun are the straight combat competitions, where you can get offensive or defensive weapon powerups and your main goal is to destroy your enemies. Depending on your performance, you also get to experience special Zone races, where both the track and your car are decorated with bright neon colors that induce a unique sensation.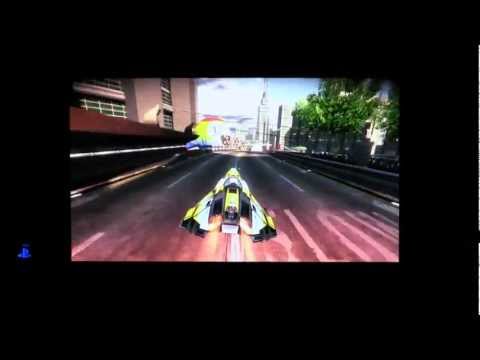 Play Video
Opponents are quite agile and slowly increase their skills as you progress through events. While at first you can easily beat them, slowly but surely, they'll even out the odds and become quite hard to overtake. Luckily, most events don't require you to be the winner, as places lower than that can also guarantee you pass and get to attempt the next race. Different races have different objectives, however, so players will be challenged throughout the campaign.
Vehicles also play a huge role in your success, as they're built for special purposes, like increased speed, which is perfect for races, increased strength, perfect for combat events, or increased agility, perfect for tight and twisted tracks.
The graphics and visual performance are also very impressive, as Wipeout 2048 looks almost the same as Wipeout HD on the PS3 and manages to keep a great framerate no matter the action on the screen. Sure, environments are sometimes less detailed than on the home console, but the fact that the game remains stable even when weapons and effects are being triggered all around you is very impressive.
Tracks may seem a bit confusing, sadly, as the array of things happening in the background can always distract you and make you miss the signs that highlight sharp turns. Tracks are also quite wide, which makes hitting power ups quite a challenge, especially when you're racing at high speeds.
Besides the great sci-fi visuals, the soundtrack also makes Wipeout 2048 stand out from the rest of Vita games, with lots of techno songs making you really feel like you're in the year of 2048 and racing ships through different futuristic environments.
Wipeout 2048's only major downside is its lengthy loading times. The game starts extremely slow and, after selecting a race, you can expect to spend over 40 seconds watching the loading screen. You're also subjected to a loading experience if you restart a race, as around 10 seconds pass before you're taken back to the start line.
The multiplayer mode is decent, although we haven't had a chance to enter that many races, as there weren't that many players available before the game's actual launch.
While we couldn't test out the cross-play feature with the PlayStation 3, the ad-hoc multiplayer, played with three other Vita owners in the same room, is very addictive, especially if you engage in combat events.
---
Overall
Wipeout 2048 is definitely one of the most impressive launch games for the PlayStation Vita. If you're remotely interested in racing games, you can't go wrong with this futuristic title. While its loading times can be a bit of bother, the great visuals, stunning soundtrack and sharp gameplay make up for the wait.