FIFA 13 Review (Xbox 360)
key review info
Game: FIFA 13
Platform: Xbox 360
Gamepad support: Yes
Reviewed on:
Written by: Andrei Dumitrescu
Show system requirements
The FIFA series was one of the first video games I played, way back in 1998 when I got my first proper computer built specifically for gaming, and the experience was a transformative one for a teenager that had always been too fat for real-world football and who already had a solid interest in the possibilities of the virtual world.
FIFA, more specifically Road to World Cup 98, showed me that I could re-create the past and mold the present to my liking in a video game, and that Romania could become World Champion while beating both France and Brazil during the tournament.
The only thing I needed to do was hone my skills, learn the moves, understand how the Artificial Intelligence played and then eliminate mistakes from my own game in order to triumph on the higher difficulty settings.
After 2002, I abandoned the FIFA series for a long time, lured by the world of role-playing and strategy, and I have only returned in force with FIFA 12, the game that arguably brought more innovation to the series than the previous five installments.
Now, EA Sports has launched FIFA 13 and the new game is both a more faithful representation of the real-world game of football than its predecessors and a more frustrating game to play and win with an underdog team.
---
Gameplay
FIFA 13 is still a football simulation at its core, despite the bells and whistles that EA Sports has hanged on it, and that means the core of the game is concerned with delivering a fun yet realistic approximation of the stuff that happens on real-world pitches when 2 teams of top-tier football players meet.


The previous game in the series was a game of clean lines, quick decisions and precise executions.

A player could recoup a ball in defense, drill a few passes through the middle and a clever one-two was enough to create a solid chance of scoring.

In FIFA 13, each of the steps outlined above, even if you are playing a full-strength Manchester City squad, includes the potential for a spectacular mistake.

Defenders often head the ball in weird ways or miss it completely, especially during hard physical duels or when the pass comes in very quickly.

Midfielders have trouble delivering pinpoint passes and they often have to track back to pick up balls and lose precious time.

Attackers themselves have a much harder time when looking for a shot, especially when they need time to get the ball under control.

FIFA 13 is a game where the player needs to be careful to always cover his character in case of a mistake and that often translates into a lower quality of play and in lower goal counts than in its predecessor.

But the unpredictability and the mistakes bring the entire experience closer to the real world and there's a real tension present at every point during a match, a feeling that great tactics and solid individual work need to be complemented by a little luck in order to reach the goal of victory.


One of the most intriguing elements of the new game is the Skill-based challenges which task the player with reaching certain goals, designed to improve his overall skill with the game.

With me, their impact was immediate, as I got a much better understanding of how penalties work, and I can see them as appealing to the kind of gamer who wants to discover the depth of FIFA 13 while also getting some nice bronze, silver and gold medals for his effort.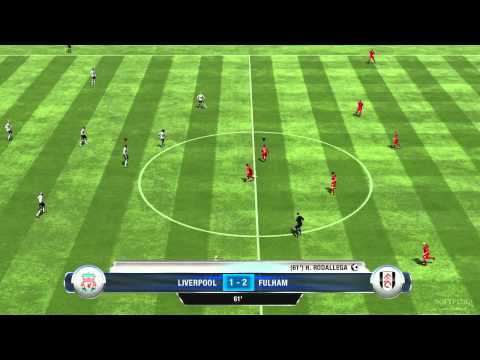 Play Video



Elsewhere, FIFA 13 offers options that the series has always provided on the periphery of the experience, from extensive cup play to creating a player and to the Be a Pro Mode, which are solid as always and extend the overall scope of the game.

The biggest disappointment with FIFA 13 is the fact that Careers seems caught in a No Man's Land, unable to get more management options that would get them closer to FIFA Manager or Football Manager and, at the same time, taking too much time for a player who just wants to play a quick season with his favorite team.


---
Graphics and audio
I have played both the Xbox 360 home console and the PC version of FIFA 13 and I must say that, despite a number of solid positive changes, a number of limitations seem to be cropping up that are clearly linked to how underpowered the current generation of consoles is when compared to the PCs of today.

EA Sports has done a lot of work when it comes to the portraits and the bodies of the players, making sure that it is impossible to fail and recognize well-known players like Messi or Nasri or Podolski or Cristiano Ronaldo.

The faces are very real-like and it's almost a pleasure to look at the various post-goal celebrations, which could be a pain in previous installments of the series.

The movement of the players has also been significantly improved and there's a decrease in the situations where their limbs tangle and interact in unnatural ways.

Unfortunately, the limited memory of home consoles means that there's less attention paid to the stadiums and to the crowds.



---
Multiplayer
For the past year, I have played countless FIFA 12 matches against my colleagues here at Softpedia and I am happy to report that I can see myself doing just as well into 2013 with this year's installment.

The mechanics that EA Sports added have made games much more tense affairs and it's harder than ever to score goals from fluid actions, which means that, often, matches are only decided by one goal, which makes every move and every decision much more important.

The Ultimate Team mode opens up another layer of multiplayer action for those who like to create their own teams and then face their friends, but I never got its appeal and I always felt that EA Sports created it in order to have another revenue stream, rather than in order to add another dimension to football simulation.


---
The Good
A more unpredictable game
More Player Impact Engine features
Skill Games
The Bad
Some passes are too accurate
Repetitive commentary
Conclusion
It's hard to review FIFA 13 without comparing it, at a certain level, with FIFA 12 and I suspect that, when it's all done and dusted, about half of critics will talk about this year's installment as the best game, while the rest will prefer the previous installment in the series.

I'm going to try and come down right on the middle and say that I believe that FIFA 13 is the game that emphasizes the simulation aspect of the series, while FIFA 12 is the game that mostly focuses on the pure emotion and joy of the sport.

FIFA 13 is a complex game with many variables, it offers heartbreak as much as it delivers success and there are times when the experience is frustrating, even if it's clear that the feeling is linked to the essence of football rather than to the EA Sports title.

There are clear enhancements added to almost all aspects of the game, and all those who have ever picked up a FIFA game owe it to themselves to pick up a copy and play at least a couple of matches with their best friends and their biggest rivals.